Original Plumbing #11: The Hero Issue
$

15.00 Sold Out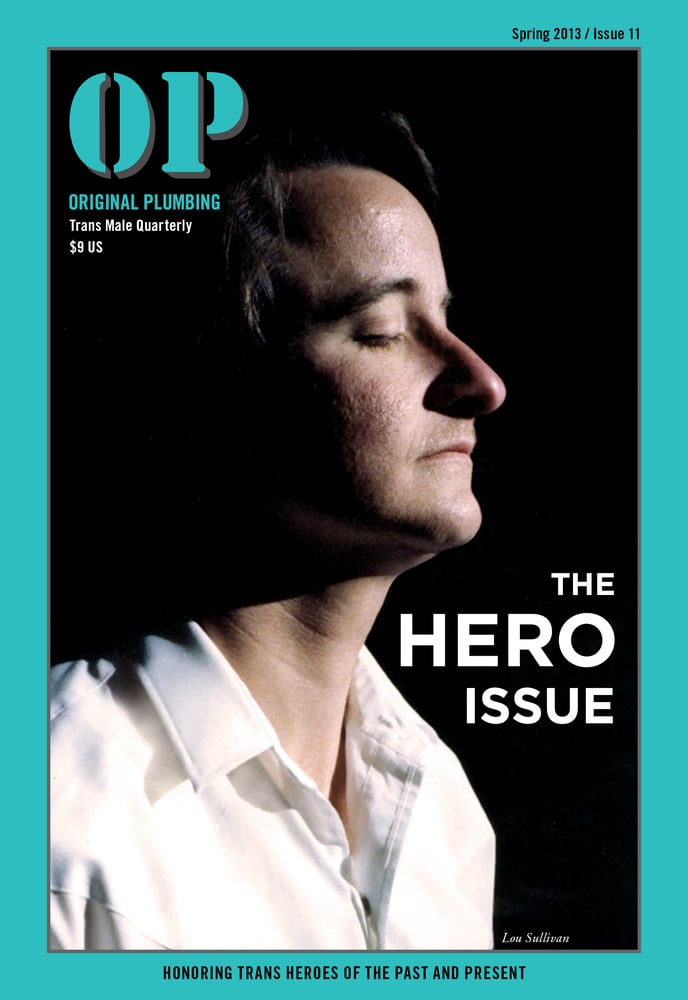 OP's 11th ISSUE - Trans Heroes of the Past and Present - Spring 2013
"You are the beauty that you create." - Lou Sullivan
**SPECIAL DOUBLE ISSUE – THE THICKEST YET***
This 90-page issue of Original Plumbing honors a number of trailblazers who set a precedent for what trans communities are built upon as well as those who continue to create change today. Including a special section celebrating the life of Lou Sullivan, we showcase the FTM International newsletter he launched in 1986 by featuring a spread of their earliest covers through the years, republished for the first time since its initial printing.
Featuring:
Lou Sullivan
Kylar Broadus
Kate Bornstein
Del LaGrace Volcano
Jamison Green
Imani Henry
Gunner Scott
Christopher Lee
Janet Mock
Tyler Fong
Jed Bell
Rupert Raj
Contributions By:
Dean Spade
Sean Dorsey
Catherine Opie
Stephen Ira
Alexander Rose
James Darling
Shawna Virago
Oliver Bendorf
Josh Klipp
Jason Cromwell
Special thanks to the San Francisco GLBT Historical Society and Female-To-Male International.
**As always, OP is sent to your home in a plain privacy envelope.
Share